Company Overview
Daye and Company specializes in developing special markets for select clients by creating and executing customized strategies in advertising, promotion, public relations' and marketing campaigns. In a short period of time Daye and Company was able to successfully enter the competitive NYC market by combining two key elements, media relations and community relations, culminating in positive results.
Daye and Company is a certified MBE that was born out of more than twenty-five years of experience in research, planning, budgeting, forecasting, pricing, sales, promotions, advertising, public relations, marketing, and personnel supervision and training. With its contacts in Corporate America and understanding about doing business in NYC, Daye and Company is a company you can trust with your company's initiative.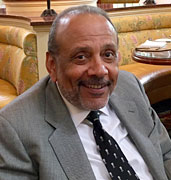 John A. Daye, President and CEO of Daye and Company, as Advertising and PR Director for a NYC minority owned weekly newspaper was able to establish numerous contacts that have proven invaluable as he embarked upon his new career. As consultant to C. Ottley Strategies, P R firm of record for Chase Bank, Mr. Daye continued to build contacts and reputation. As consultant to Harlem Foundation for Arts & Culture and Veritas Therapeutic Foundation, Inc., Daye and Company's reputation for success continued to grow.
Daye and Company is currently celebrating 26 years in business.
DAYE AND COMPANY'S VISION FOR THE FUTURE
Represent your company as boutique advertising / public relations / marketing company by:
a) identifying target markets;
b) strategically implementing a campaign aimed at strengthening your corporate image in target markets, most cost effectively.

Implement new and intriguing advertising / marketing initiatives for clients in target markets.

Produce major events, and publish important and pertinent annual newspaper supplements; offering alternate opportunities for corporate marketing in target markets.
Apply Daye and Company's experience and expertise to assist your company or organization with your Diversity program/outreach.
Daye and Company possesses the integrity and capability to address your company's needs and looks forward to the opportunity to put our talents to task by establishing a formula for the success of your company's initiative.